ONGOING AND FORTHCOMING RECORDINGS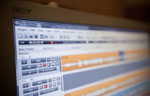 2021, April 8th - 10th: Audio/Video recording with OTB Medien of pianist Beatrice Rana  at Oratorio del Gonfalone in Rome.
2021, July 6th - 10th:  Audio CD recording of "Romatisches Klavierkonzert" and "Castelli Romani" by Joseph Marx at Oper Graz with Michael Korstick and Grazer Philharmonisches Orchester conducted by Roland Kluttig for CPO.
2021, June 14th - 17th: Audio CD recording of "The courts of Turin and London" at Biblioteca Nazionale di Torino with "L'Astrèe" and Music by  Felice Giardini and Johann Christian Bach for CPO.
2021 August 5th - 11th: Audio CD recording of "Idalma" by Bernardo Pasquini at Innsbruck Weeks Of Early Music with  Innsbruck Festwochen Orchester conducted by Alessandro De Marchi.