ONGOING AND FORTHCOMING RECORDINGS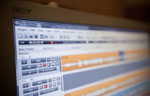 2019, January 21th - 27th: Audio for Video recording of G.F. Händel's "Xerxes" at Deutsche Oper am Rhein with OTB Medien - with Valer Sabadus, Terry Wey, Katarina Bradic etc. - Konrad Junghänel, Neue Düsseldorfer Hofmusik
 2019, March 24th - 31th: Audio for Video recording of Zemlinski's "Der Zwerg" with OTB Medien at Deutsche Oper Berlin for Naxos Audiovisual.
2019, July 21st - 31st: Sound Design and PA at Arena Pula (HR) for  "Carmen", "Aida" and Beethoven IXth Symphony.
2019, August 2nd - 11th: Audio CD and Video recording of "Merope" at Innsbruck Weeks Of Early Music for Naxos Audiovisual with David Hansen, Arianna Venditelli, Anna Bonitatibus, Vivica Genaux, Filippo Mineccia, Hagen Matzeit, Jeffrey Francis, conducted by Alessandro De Marchi.
2019, August 19th - 26th: Audio CD recording of "La Dori" at Innsbruck Weeks Of Early Music for CPO with Emőke Baráth, Francesca Lombardi Mazzulli, Rodrigo Sosa dal Pozzo, Riccardo Angelo Strano, Bradley Smith, Edward Grint, Pietro Di Bianco, Rocco Cavalluzzi and Academia Bizantina conducted by Ottavio Dantone.